For the first time in months – many months – I walked in Mill Creek Ravine (on Monday, after work). I totally neglected it during the winter, and most of autumn. Sorry Mill Creek. You know you are still my favourite ravine.
Since the last time I was down there, many things have changed, and not for the better. First surprise, Wild Earth Bakery is closed, and so is Wild Earth Foods (formerly IGA), my grocery store for two decades. How very sad. I feel like I dodged a bullet by choosing not to move back into that area, but I feel very sorry for those who still live in this beautiful, walkable neighbourhood two blocks from Mill Creek. Although the bakery had many incarnations over the years (it was a pharmacy in 1990 when I moved there, and then a video store), it became a real meeting spot for locals in the ten years of its existence. I have many fond and delicious memories of the trail mix cookies that I would often treat myself to after long walks in Mill Creek. Developers are building a couple of high-rise towers on that lot, so the small businesses are not wanted on that inevitable voyage.
After that shock, I carried on through the familiar houses on 89th, but did not see Godzilla in his pot, where he should be this late in spring. Did his owners move too? Jesus Christ.
Mill Creek Ravine (south) is thankfully the same, as far as I can tell. Still beautiful. Still deeply familiar. Also, very dry. There are lots of tiny green things that will become big green things once we get some more rain. The creek is not too low, so we're not in a drought, but the dominant colour is still brown.
Once I crossed the pedestrian bridge over Connor's Road, that's when things started to change BIG TIME.
Lots of trees cut down on both sides of Connor's Hill, and there is already some sort of structure below the hill beside the Muttart, probably the LRT station. No more running down, or up that hill. And so the only path left is around the ski club, through the Muttart parking lot, and up the pedestrian bridge over 98th. But only so far. The path has been narrowed and curved, so instead of walking into a canopy of green at Henrietta Muir Park and the Cloverdale bridge, it's a construction site leading commuters back onto 98th.
It was jarring to see the site. I won't go into what a devastating loss I feel looking over at all that ugliness, but suffice to say it was pretty awful. And in my mind, and many other minds, completely unnecessary. But, it is done.
After that, I dove back into the woods at the River Queen entrance, walking along the lightly verdant trail until I reached the Low Level Bridge. At this point, I had been walking for more than an hour and I was tired, hot and deflated, so I decided to treat myself to my first ever ride on the Funicular.
The Funicular is another thing that didn't need to happen, but I enjoyed the ride and especially the views. As it only goes half way up (or down, depending on your orientation) I'm not sure it achieves the true accessibility to the river valley trails that was its original purpose. And, the elevator to the funicular wasn't working, so in the end, I still walked up a bunch of stairs, but only half as many as I would have walked if this fancy escalator didn't exist.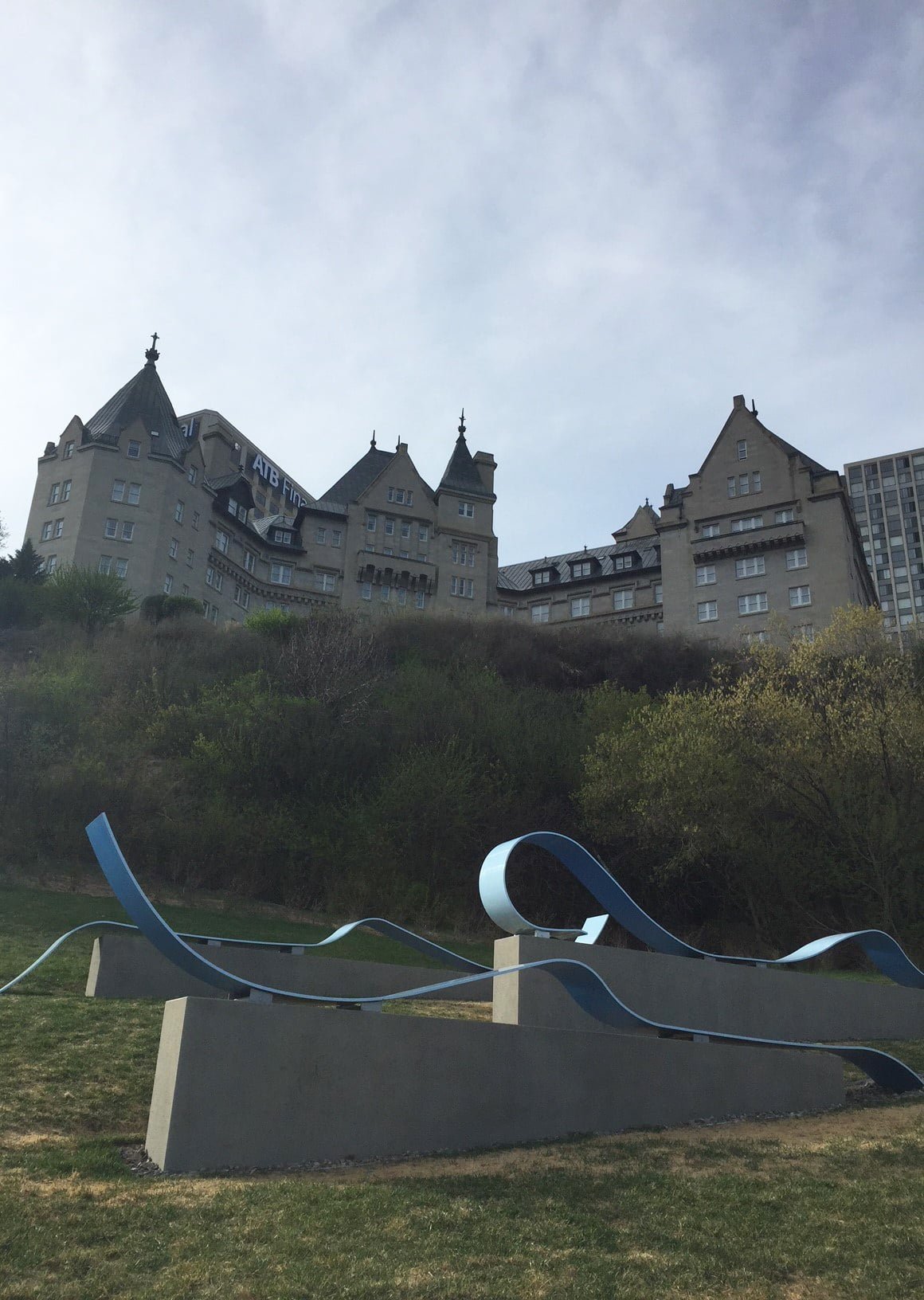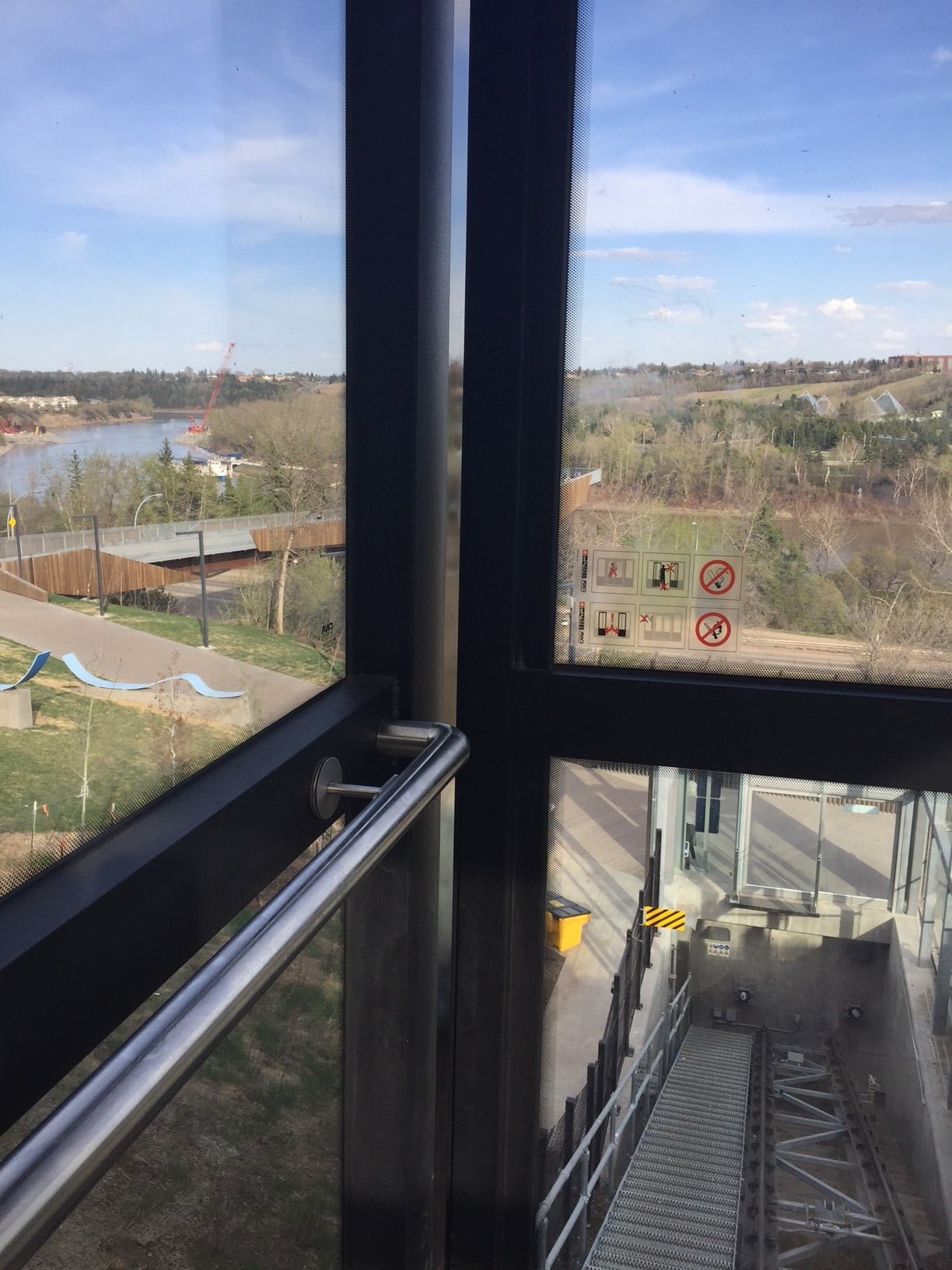 I miss my old river valley. Thankfully, it's a long river, with many points of interest. But this area was really special to me. I knew it well. And now it's gone.