40 years ago today, September 13, 1979, I saw Abba perform in Edmonton – the first stop in what would turn out to be their one and only concert tour of North America.
I still remember lining up on the escalator at Woodwards in downtown Edmonton, waiting for the ticket office on the 2nd floor to open. I bought two tickets, one for me and the other for my friend Robbin, who was the person who bought me my first ABBA album, ABBA's Greatest Hits, in 1976 when I was 12.
The tickets sold out in three hours.
Looking back, it seemed like a premature move on the band's part to put out a greatest hits compilation when they had only been together for four years at that point, but the album was a success, breaking the Canadian music charts top 10 for the first time with Fernando. I wore that album out, which is something that doesn't happen anymore. Digital downloads don't show their wear, but pressed in every skip, hiss and pop of that vinyl album is my teenage self. The gate-fold image of the two couples, Benny and Anni-Frid (or Frida) on one side, Agnetha and Björn on the other, is still one of my favourite album covers of all time.
I'm also pretty sure (but not 100% sure) I saw Björn in the wild, in jogging gear, near what was then the Four Seasons Hotel (now Sutton Place). The band was in Edmonton for several days prior to the concert, so it's possible. We made eye contact, but I did not say anything. He understood.
Graham Hicks, a music reporter for the Edmonton Journal, wrote several articles before and after the concert.
"The tour was supposed to start in Vancouver, but Dave Horodezky of Brimstone Productions, the Edmonton promoters, got on the blower to Sweden," said Hicks in a column dated September 11, 1979, two days before the concert. "He had a good case to make. Collectively, Alberta is a big, big fan of ABBA. Its Greatest Hits album sold more than 100,000 copies in the province. Edmonton also had the Coliseum for ABBA to play in – considered to be one of the best arenas in North America [now decommissioned] for rock concert staging. And the hall was available two days ahead of time, for rehearsals."
Ola Brunkert, the band's drummer, said to Hicks: "We're excited. It's our first tour in two years. I'm not nervous now, too tired, but wait until Thursday!"
To be honest, I don't recall much from the concert. My memories are images rather than sound. The icy blues, the sparkles. The anatomically correct satin pantsuits of Benny and Björn. I also distinctly remember Frida donning a Gretzky hockey jersey, marking the first time his name, and the Edmonton Oilers, came into my consciousness.
Graham Hicks joined 120 other international journalists at the post-concert media scrum. "Everything went smoothly," said Björn Ulvaeus, no longer sporting his satin pantsuit. "We didn't have too much self-confidence after not playing live for 2 1/2 years, so it was an incredible relief when it worked. If the rest of the audiences are as good as Edmonton, this tour will be great."
Well, I did my part.
It was not always cool to love ABBA. Some may argue, it still isn't, but back in the 1970s long before the Mamma Mia revival, it was not cool to love ABBA. Or maybe I'm conflating my own lack of coolness with the musicians that I loved, and the clothes that I wore, and uh, the things that I said. My love of Abba did not endear me to any clique. Not then, not now.
The first time I saw Erasure's video for their cover of Take a Chance on Me, I thought they were parodying ABBA – until I saw the original video. It was not parody – it was full on (loving) replication, in drag. ABBA's music videos are most memorable for their fabulous 70s era clothes, which to this day still have the power to startle. Almost all of their videos, and ABBA: The Movie, were directed by famed Swedish director Lasse Hallström, who would go on to direct My Life as Dog, the Academy Award nominated Chocolat, and one of my favourite films, What's Eating Gilbert Grape.
The glorious music of Agnetha, Björn, Benny and Frida imprinted on my developing brain at such an early age, it forever restructured it to be a receptacle for all things sweet, colourful and preferably, Swedish. I knew their lyrics were far from poetic, and sometimes silly, but I memorized them anyway and found solace and joy in the stories they told. Their melodies and in particular, their voices, were uplifting and for someone who couldn't carry a tune, easy singalongs. I strongly identified with Frida, a fellow redhead, and learned to differentiate her edgier sound from Agnetha's mournful voice – admittedly a soft skill, but a skill nonetheless.
People often associate ABBA with disco, but out of their seven original albums (along with the single Dancing Queen from their earlier album Arrival), they only put out one identifiable disco collection, Voulez Vous, in 1979 and half the songs on that album were not disco at all. I can't envision John Travolta bumping and grinding to Chiquitita. In fact, many of ABBA's pop songs are quite melancholic, especially on the last two albums, Super Trouper and The Visitors. As Benny and Björn's command of the English language developed and the personal lives of the group got messier, songs like Honey, Honey gave way to The Winner Takes It All as real life loss began to creep inexorably into their lyrics (and voices). Nevertheless, ABBA remains melodic escapism at its absolute best.
In 2011, I travelled to Sweden to visit my sister and brother-in-law who were living in Gothenburg on a year-long sabbatical. It would be two years before ABBA: The Museum, would open in Stockholm, but I still found the country absolutely beautiful (and their kanelbulles tasty). Visiting Gamla Stan in Stockholm with its soaring architecture was particularly resonate. A poster of the group standing in front of the iconic Gamla Stan buildings was on my wall for many years. I hope I get to make a Holy Pilgrimage to the museum one day, and eat more kanelbulles with pärlsocker.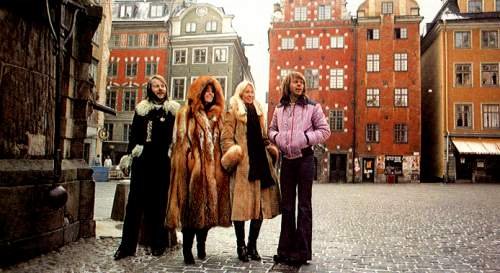 Love and work collided in 2016, when – in my role as a writer for the University of Alberta's Faculty of Arts – I thoughtfully assigned myself the job of profiling a new course offered by the Department of Modern Languages and Cultural Studies called Mamma Mia: Queer I Go Again! taught by Swedish scholar (and ABBA fan) John Eason.
Up to that point, I hadn't realized how deeply embedded ABBA was in the LGBTQ community. It was a dream assignment, and although it ended up being a shorter article than I had hoped, the meeting with John was long, elaborate and delicious. It was the first conversation I'd ever had with a true ABBA fan, or at least one who knew a lot more than I did. I wanted to be his friend.
"A lot of it goes back to sentimental music and singers who display fewer stereotypically masculine qualities or inhibitions about accepting emotion," he said at the time. "For sexual minorities, ABBA and pop culture in general is more important, because many other minorities are born into a support system, whereas we're not. It's a survival instinct to want to escape from your problems. Whether you're getting bullied or pushed around, whether your parents are homophobic, pop music has a particularly important role for sexual minorities."
Although I can't claim to be part of a sexual minority, I certainly felt like a club of one often enough to know how powerful it is to find validation and escape in music.
Two years later, seeing Mamma Mia at the Citadel in 2018 with my bestie Barb was one of the most wonderful ABBA-adjacent experiences of my life. I had avoided the movie, not for any philosophical reason per se, other than I didn't think of myself as a second-wave ABBA fan. I couldn't claim nostalgia for the music of my youth because ABBA had never left my fictive turntable. Now, it was the music of my middle-age, and boy, did we middle-agers have fun that night! I finally watched the movie a few weeks after seeing the musical but it just didn't capture the joy of the live production, or the music.
ABBA has always been in my life, and always will be. I say that now proudly and unapologetically. In fact, I suspect I will be singing Gimme, Gimme, Gimme (a urinary incontinence pad) at the old folk's home.
And I still won't be cool.
Notes on ABBA:
Favourite Album: Super Trouper. Honourable mention: The Visitors
Top ten favourite songs (in no particular order):
Lay All Your Love On Me
The Day Before You Came
Move On
Fernando (including Spanish and Swedish versions)
Arrival
The Piper
The Visitors
Cassandra
The Winner Takes It All
Waterloo
Favourite covers: Erasure's Abba-esque, Madonna's Hung Up and Mike Oldfield's Arrival
Favourite movie featuring Abba's music: Miriam's Wedding, with honorable mention to The Martian (and its heart-pounding Waterloo) and the Swedish film Together
Read my posts from Sweden (and Norway) here
Finally, ABBA…thank YOU for the music!
And yes…I realize this is in my walking blog, but I had no where else to place it, and purchasing the ticket AND getting to my seat at the concert did, in fact, involve walking.