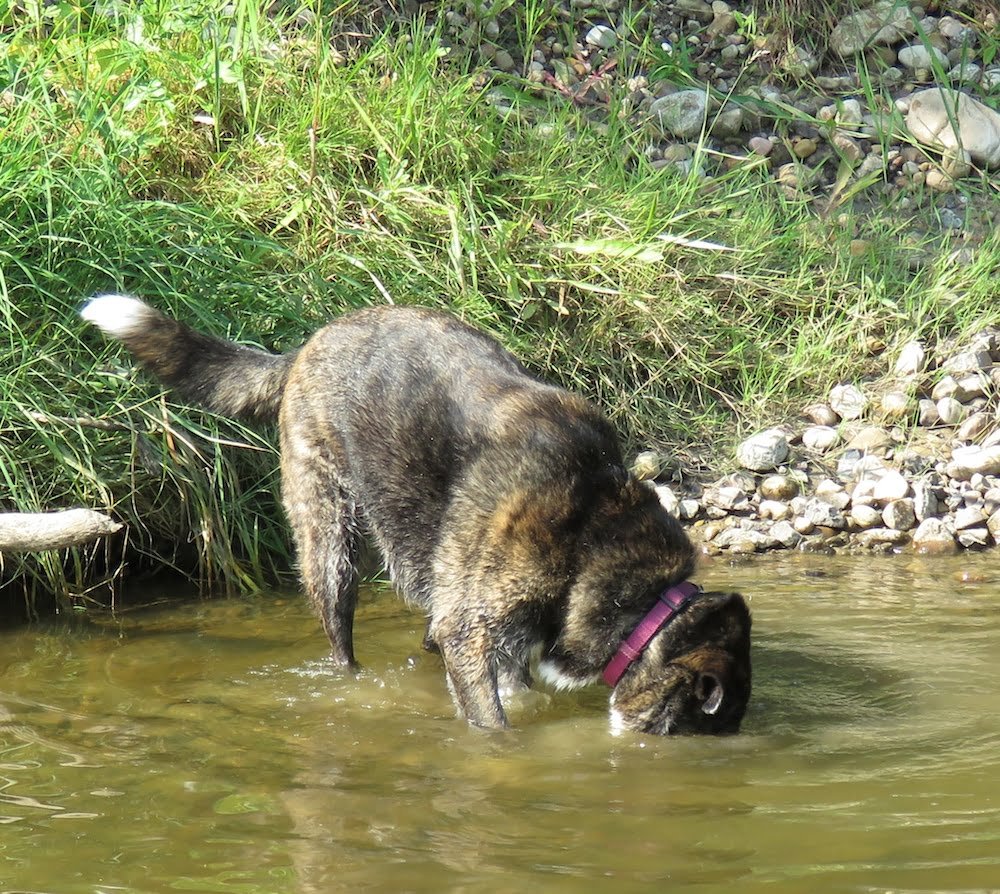 This has got to be a record-breaking July in terms of hot, miserable weather. OK, maybe not miserable if you like temperatures upwards of 30C, but definitely miserable if, like me, you're not into full on – who knew I had pores there – body sweat. At least it's not horribly dry, thanks to some spectacular thunderstorms.
For the last week, Sharon and Vic have been away on yet another adventure, this time to Colombia, so I spent most of the weekend at their place playing with Stella (and Kate, and oh yeah the cat Wanda). My niece says that I bring 'enrichment" to Stella's life when her parents are away. I'm sure that's true, if you count long walks in the ravine, doggie pool-play (if it's hot, which it always is), and the delivery of treats, in this case a fresh bag of Beggin' Strips. Stella looks sooo forlorn inside the house. She's definitely an outdoorsy girl, whereas Kate is decidedly indoorsy, referring to the sun as "the day-star" – and in no way is this complimentary.
On Sunday, I drove over early to gather the dog for a hike in Whitemud Ravine. Even at 9:00 am, it was warm, but once we dived into the woods, the temperature dropped by about five degrees. Stella is so damn happy in the ravine, as am I, although my ears don't bounce as I trot along the trail (and really, I don't trot). Nor do I stop to smell everything, but the overall scent is magnificent.
Finding time for these sorts of walks has been more challenging than I expected. I guess my life is a little more complicated now, and happily so. And even though I live two blocks off the river valley, there is no escaping the traffic, either on Victoria Trail, River Road, the truly awful Groat Bridge construction site, or even down Jasper into Louise McKinney and beyond. This is true also of my commutes. When I lived in Mill Creek, it was fairly easy to avoid major roads on my way home.
After work, once I was in the river valley (usually off Saskatchewan Drive), any number of gorgeous trails could take me home, and depending on the route I chose, would double as an incredibly good workout. I might have to cross traffic on or under the Walterdale Bridge, the Low Level Bridge or 99th Street, but for the most part, my entire commute was in the woods. Now, I live on the other side of the river, and it's not so easy to find these beautiful, trail-based commutes.
It is better than nothing, however, and even when I lived two blocks off Mill Creek Ravine, my routes were always being diverted by construction projects. Now, it's even worse, with the new Waterdale Bridge construction site and the Valley Line LRT. So even as I wax poetic about my old routes – those routes, at least for several more years, no longer exist.
Back to Whitemud Ravine. It was a good walk, with a good dog, and we both very much enjoyed it. Stella got to sample the creek water at two different spots, and tangentially, through some slimy stick throwing and Stella's all-encompassing body shakes, so did I.
9:30-11:30/26C