A roll out of bed morning walk. Lots of hills, lots of stairs. Could feel the mini-donuts oozing out of my skin. Ahh…if only it were that easy. At 9:00 am , it was cool in the shady parts, and warm in the sunny parts. Two hours later, it was warm everywhere. The creek has slithered back to its normal mid-summer trickle, and the meadows are waist-high and full of colour, like Impressionist canvases. Only nicer. Heh.
Along with the dogs and fellow river valley enjoyists, I was accompanied on my walk by one long continuous platoon of mosquitoes, but not in the same ludicrous number as in the previous few days. Two hands were enough to take care of the problem. I also noticed an upsurge in the grasshopper population, especially in the McKinney/Muttart area. Spotted quite a few sunning themselves along the white-hot pier near the river. Not being a farmer, I quite like these little jumpers. They seem rather affable as far as insects are concerned,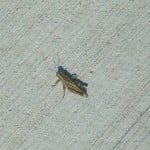 and let's face it, they have lovely voices. And impressive knees.
OK, here's the thing: I love the sun. I do. But, is it too much to ask for a cloudy day? I'm not asking for a reduction in the heat, that would be too greedy, I suppose, but a little variation in the sky (other than a storm) would be great. A winter gust can feel like a slap in the face, but full on sun in the summer is a beat-down, no question. And there are many sections of the river valley that are completely open, without shade. Boy, I feel like I've become incredibly whiny in the last month. It's either the rain drowning the life out of my iPod Touch (bought a better one, so there…), or the heat sapping the life out of me. I think what I'm saying is that I'm a temperate sort of person, with a fondness for the cold. And really, we've had a great summer so far with very few extremes, so I should stop complaining and mellow out like the grasshoppers. Chill, as it were. Too bad I can't sing like them. Or jump.
3:44 PM/25C