It's hard to believe I haven't walked in Whitemud Ravine since the winter. I'm not even sure I walked there in the winter! I probably did. I can account for February and March (Scottsdale and then the injury) and April/early May (COVID-19 shutdown) but since mid-May, I've really had no excuse. In fact, my walking in the last month or so has really sucked. We've had lots of rain, and I've been busy at work (including working some weekends) but if walking is not a priority, it's not going to happen. And it hasn't been a priority, for some reason. When I have walked it's been over to Tom's or with Tom, in and around Glenora. Great walks, but not the woods.
It's so clear that I feel most at home, most like myself, walking in the ravines and the river valley. There's just something about the woods. I felt immediately better once Stella and I walked down into that ravine via Westbrook. It was also wonderful to be with her, and to be surrounded by green. Sharon and Vic are away on holidays to BC, so even though Kate walks her, she doesn't take her into the woods. Stella loves it. Whenever I come over, she noses the door of my car. She knows.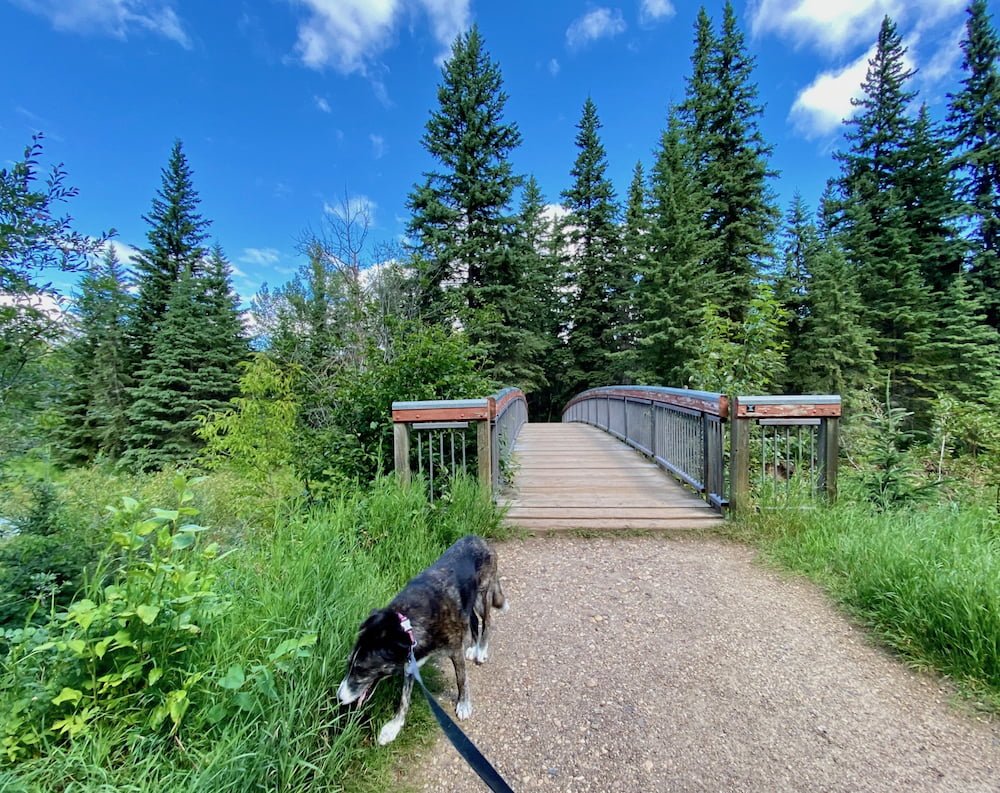 Whitemud Ravine is incredibly lush right now. We've had so much rain, everything is moist, overgrown and ridiculously green. This is also my first unpaved trail walk since the injury. Crazy that I haven't done this yet, but I was worried about tripping on a tree root and hyper-extending my leg again. It was totally fine. I didn't feel any strain. Stella goes up hills very slowly now, but that's OK.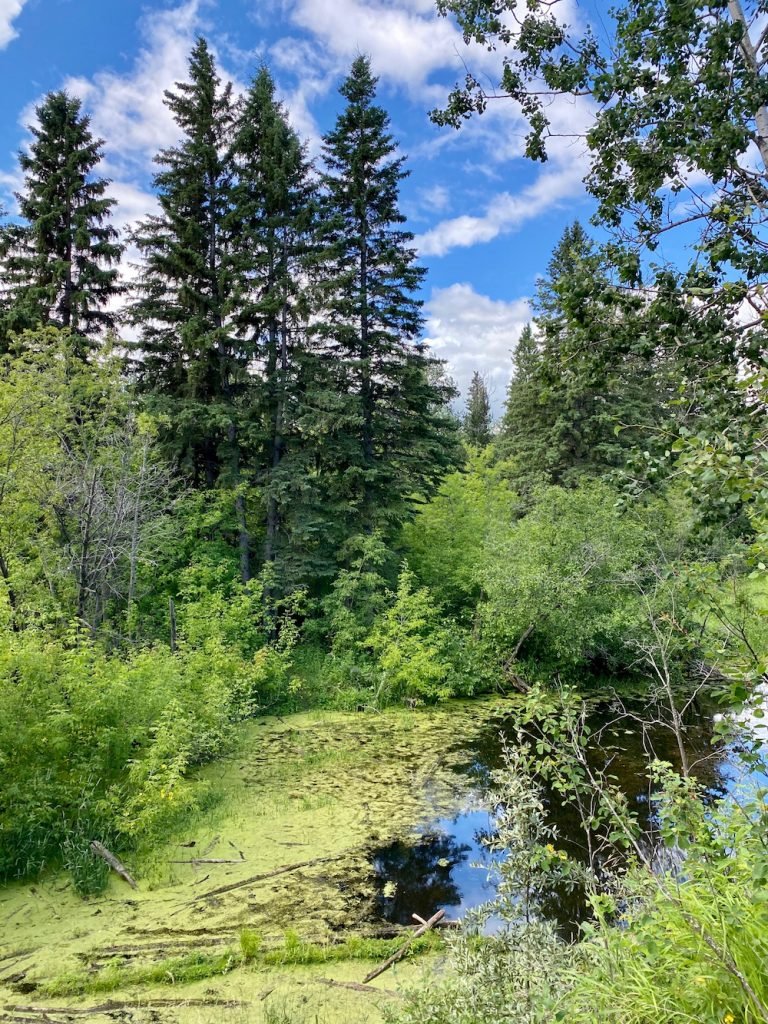 One thing that was different was the little construction project about half way through is now completed. Last year, they took out the rickety boardwalk bridge and the very rickety wooden stairs. Somehow, in a feat of wizardry, they put in a bridge that doesn't seem to have an incline, but still ends up at the top of the hill, next to the little lookout that is always full of seed for birds, squirrels and chipmunks.
Stella and I made it to Rainbow Valley Road and back. It took a little more than an hour, but surprisingly, it only adds up to 7,600 steps. The good thing is that it's up and down, so a good, occasionally strenuous walk. Stella really, really wanted to go into the creek, but it's too high and fast right now. Maybe in a couple of weeks. I sprayed her with the hose when we got back.
The walk was really rejuvenating. I'm having a hard time taking care of myself these days. Lots of anxiety, stress, poor sleeping. The ironic thing is that if I was walking more, I probably wouldn't be experiencing those things, or at least not to the same degree. Not only does walking decrease stress and anxiety, it can also prevent it. At least in my experience. The world is kind of a dumpster fire at the moment, so the least I can I do is take myself for a daily walk. It worked for 20+ years. No reason why it couldn't work again.
70 minutes, about 20C