Vigorous walk from the south end of Whitemud to Rainbow Valley Road, and then back via Aspen Gardens. Last day 'off' so I thought I would take advantage of the warm weather and blue skies. It was as to be expected – pretty, empty (I left late morning) and tinkly with the sound of melting ice and flowing water.
I wore hiking boots until I reached the lower, unpaved paths which are still covered in ice, and then I pulled on my micro-spikes. The spikes are OK, but walking on dry pavement with my boots is hard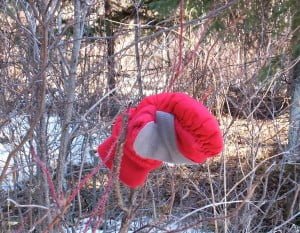 on my knees and feet. It happens every year when the snow is gone everywhere except the trails. Can't wait to get back into my running shoes.
Nothing remarkable, other than the usual remarkable stuff, although I did spot a Glovewood Tree in full bloom!
About two hours/11C