Hot, 45 minute walk in Terwillegar with the doggie, my niece and sister this morning. Maggie was ecstatic to be in the river, and didn't want to leave.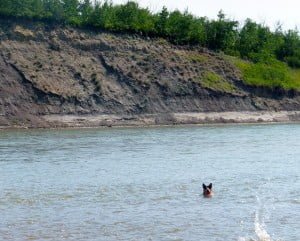 She gets this shrill, puppy-like bark going which is both funny and annoying. Lots of other dogs splashing about, and some swimming, even deep into the current. Maggie is more of a wader. Giant fields of daisies and other assorted weed/flower beauties in every direction, alive with bees and dragonflies.
I worry about Maggie on these hot days, and there wasn't a lot of shade on the trail we took, but she seemed OK. Happy to be out with her peeps. And I was happy to be out with mine, on a beautiful day.
26C/11:30am