Had an eye appointment downtown this afternoon. An hour later, new and improved spectacles (I hope) are on the way and my eyes are now sporting a shiny new pair of contact lenses I can actually see out of. In celebration of my triumph over myopia, I went for a walk through downtown, and then into the river valley west of the Low Level Bridge, ending in Skunk Hollow. There is a lot of grit about, which means a lot of dust and dirty snow. It's an ugly time of year. The ugliest. But yesterday, it rained, and this morning, it smelled like spring for the first time. I felt transported.
It was a windy walk down Jasper Avenue, and the river valley is still mostly snow and puddles. Nice to be out and about, even in this muckified state. Walked up to my vet's for some Molly pills, and spotted a rare Ghost Magpie on someone's lawn. I love these guys. Used to see one every now and then on my bird feeder. They're even more spectacular in the summer when the contrast between their pale feathers and the green foliage is so stark.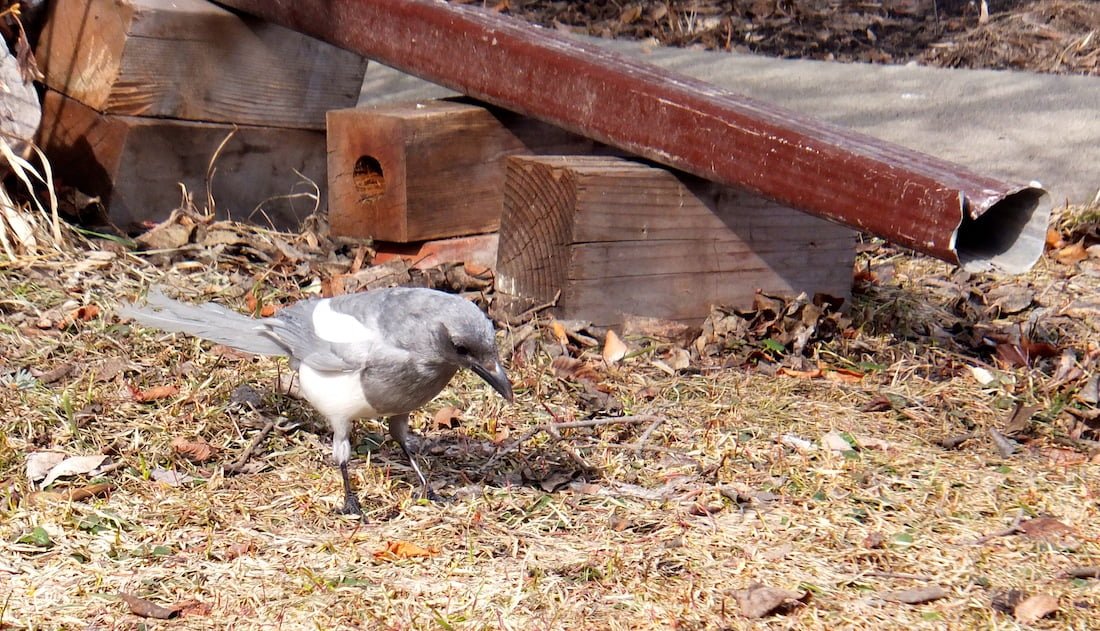 I've been exercising a lot more in the last three weeks, mostly the eliptical but also extended walks from the train. Starting next week, I'm going to try walking home from Southgate. It's a flat walk, and not in the river valley, but it's silly to keep pining for the commutes I used to have when I lived in Strathcona/Mill Creek. I will have those walks again, but here and now, I have to find a way to be in nature during the week, and not just the weekends with the dog in Whitemud. Not that I don't love those walks, but it's not enough. I wish Maggie could meet me at the train. She has so few skills.
 4:40PM/9C