And I mean that in every sense of the word. It's surprisingly cold, and it's beautiful.
Rolled out of bed this morning and into a -16C snowscape. Well, not exactly, but I did go for a walk about an hour after I awoke, around 9:00 am. Last Sunday, it was pouring rain. I walked in that too, but as much as I enjoy a wet autumn landscape, I can think of nothing that fills me with more visual pleasure than a snowy woodland trail. I really had to layer up to withstand the chill, but after five or so minutes, I was warm and almost giddy from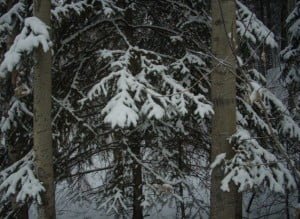 the exceptionally gorgeous scenery. Also, after a week of short, dark walks home from work, just being out in the sun, even in it's diffused state, was like a dump of serotonin into my bloodstream.
Mill Creek is frozen over, but I could still hear bubbling water under the ice. Other than a few woodpeckers, this was the only sound. So peaceful, until I started walking over the snow-covered wooden bridge, and then it sounded like my boots were taking big gulps of the snow with every step. I squeaked and crunched my way through Mill Creek, and then over to the Muttart, where the ski hill was in a cloud of fog from the snow-makers. Walked as far as the Cloverdale Pedestrian Bridge because I wanted to check out the pancake situation on the river, but no pancakes, just an entirely new and much narrower snowy shoreline, with a single break of cold, dark water swirling with ice fog. Didn't see any seagulls, but the woods were full of chickadees and magpies. Next time, I'll bring some seed.
Normally, I would have continued on to the other side of the river, but my thighs started to feel like blocks of wood, which was probably not a good thing. Thermal leggings are OK, but -16C is pushing it, and my legs are the only part of my body that I never layer, other than a strip of cheek, the bridge of my nose, and a pair of watery eyes. It's amazing I could move at all, but I managed to fit in a fairly vigorous 80 minute walk, wooden thighs and all.
Next week I'll start taking the long way home. I feel like I've acclimatized now, sort of. I've put away my sandals, and made peace with the inevitability of hat hair. Tomorrow and Tuesday are supposed to be very cold, but after that, the temperature is rising to about -6C, which is perfect winter walking weather. Might even lose a few layers. Hopefully this burst of serotonin will last until then.
11:00 AM/-16C