Yet another lovely walk in the river valley. Not only was it hot (27C), it was also very noisy wading through the leaves. Astonishing really, considering fall just started last week. A few frosty mornings, some wind and voilà! Seems there is no autumn in Edmonton without the wind. In the short term, awesome piles of leaves on the ground. In the long term, and I mean in a week, bare trees. I love the naked part of fall too, but the scenery right now is just breathtaking.
Last year, it was so warm in September, the first frost was delayed until October, and by that time, the green leaves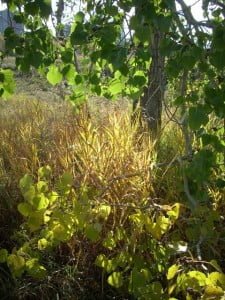 just threw themselves to the ground out of sheer frustration that they never got a final change of clothes. Maybe this explains why autumn this year seems so yellow, and so beautiful.
A routine, 90 minute walk through Rossdale, the Muttart, and Mill Creek Ravine. In spite of the heat, the air was anything but oppressive. The sun is was at a lower angle, not beating on my head as in midsummer, and the shady areas were considerably cooler. Also, I've lost every bit of tan that I possessed, so I'm much more reflective. And I don't mean thoughtful.
It's supposed to be very windy tomorrow, so the raining of leaves will continue. Peak fall at its peak.
6:05 PM/27C