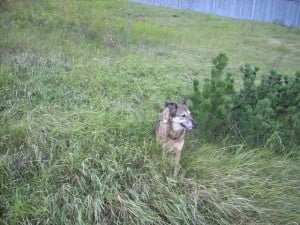 Well, not me. My dog for the weekend. My favourite hairy niece. Maggie. Mutt extraordinaire, tireless walking buddy, and affable conversationalist. And only a little bit smelly.
Very October today. Except for the green and the total absence of gourds. Windy and cold, intermittently sunny, but mostly overcast. Not a bad day for a walk, but I wouldn't want to be short-sleeved.
The entrance to Whitemud Creek Ravine begins with an open area referred to as the  'power-line', aptly named as there is a line of GIANT transmission towers stretching as far as the eye can see. You can hear the power sizzling through the electrical lines overhead. Speaking as a non-resident of the neighbourhood, as far as godzilla-sized metal structures can be, they are relatively unobtrusive. The towers briefly intersect the ravine, but if you walk enough in the area, they kind of disappear after awhile. Obliviousness is apparently, a more natural state than attentiveness.
Maggie and I walked along the power line to the mini-wetland pond to see if there were any muskrats
(there weren't), or red-winged blackbirds (none of those either), but the pond is still quite lovely. A few ducks, a lot of green slimy stuff, a few yipping coyotes in the distance, but that's about it.
After a few carefree leaps in the tall grass (Maggie), we carried on to Whitemud Creek ravine, walking as far as the first bridge. I suppose it depends on which end you enter the ravine what bridge is first, but entering from the south end of
Whitemud, the first bridge is about ten minutes from a long set of overgrown wooden stairs built right into the hill, leading down into the ravine. The city has done a very good job over the years of building simple, but quaint little bridges throughout the river valley. Mill Creek Ravine has the most, I think, but I'm more familiar with that area than other trail system in the city, so I could be wrong. Whitemud has four bridges that I know of, and it was under the first one that Maggie decided to have a several slurps of delicious creek water, and a frenzied swim to the middle of the creek and back. She drinks so fast she often throws up seconds after shaking off the water, which she did today, very close to my shoe, but then, back in
again for some more.  Ah well, she's a dog. I try to avoid doing things that will make me throw up, but she's always game.
Ten minutes short of two hours later, we returned home, safe and sound, a bit tired and ready for a snack. Looking forward to another long walk with my buddy tomorrow, if it doesn't snow.
11:52 AM/10C