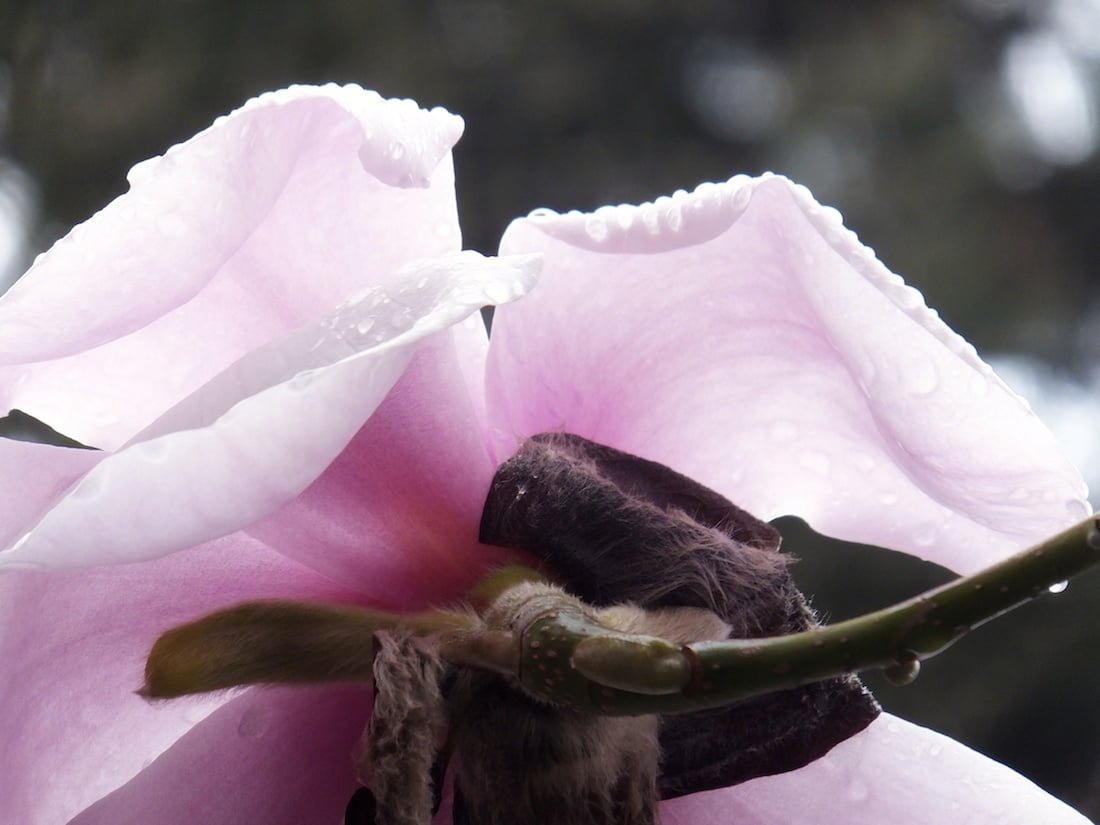 Took a plane on wintry Friday afternoon in Edmonton and arrived in the warm, but much wetter spring of Vancouver. It is amazing that just a little more than an hour west, magnolia trees are in full pink blossom and the streets are lined with flowering cherry trees. Green grass. Green everything. Grey skies for the most part, but I will take that in exchange for a small reprieve from winter's endless grip.
When I found out that Neil Finn was touring in Vancouver in March, I booked a ticket immediately. There was no scheduled stop in Edmonton (as opposed to the last couple of Crowded House tours), so there was literally no alternative, other than missing the show, which was not an option. Also, the opportunity to see friends, visit the Lawren Harris show at the Vancouver Art Gallery, and get a much-needed break from the snow. Friday afternoon to Sunday evening. Short, but sweet.
When I arrived in Vancouver around 2:30, I took the Canada Line train to downtown. Absolutely no idea where I was when I emerged out of the Waterfront Station. My pre-printed mapquest route didn't include this exit, so I was completely flummoxed, and it was raining. Hard.
With a suitcase in one hand, and an umbrella in the other, and trying very hard not to appear pathetically lost, I stepped into a Starbucks and fired up Google maps on my iPhone. It got me to my hotel in about 10 minutes. It's very discombobulating to look around and have absolutely no idea where I was, or which direction I should turn. I've been to Vancouver a few times, but not on my own, and not right downtown. After I checked in, admiring the city view and the king-sized bed, I tried to fix my rain-frizzed hair, but gave up after a few minutes, opting instead to explore my surroundings. The hotel is a few blocks up from the harbour, so I headed west. It was chilly (about 9), but no gloves were necessary, or scarf. Just a sturdy umbrella and a lot of hairspray.
The harbour was magnificent. Successions of sea planes were landing in the black water, with tankers in the misty distance. By this point, I'd already taken pictures of ivy growing outside (!), cherry blossoms, and anything else that was even remotely green and budding.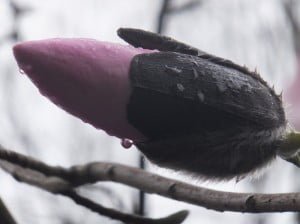 I'd just shoveled 4cm of snow on Thursday, so the verdant landscape seemed a little unreal. After an hour or so of walking around, getting my bearings (or so I thought), I returned to my hotel. I texted Suzanne, and we agreed to meet at her apartment on Jervis Street at 6:30. Again, with the pre-printed mapquest sheet, and a reassurance from Suzanne that she was 'an easy 20 minute walk away,' I set out. However, I have no sense of direction at the best of times, and so…I got lost. Really, really lost. I should have turned right, but I turned left, and walked west down Robson. And then down Granville. It was POURING.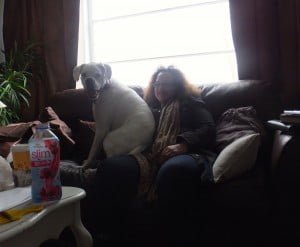 The kind of deluge Edmonton only sees two or three times a summer. My feet were soaked. And Vancouverites are very aggressive with their umbrellas. It was like battling a sea of wet, angry bats. I took refuge in a store, and called Suzanne. Finally, at the corner of Burrard and Robson, I turned right, walked about four blocks to Jervis, and then up the green and pink street to her 1930's three story walk-up. Easy. Jervis is a beautiful street. I found a magnolia tree in full bloom as I squelched along the sidewalk. The flowers were spectacular. I took a few shots with my iPhone, but couldn't capture the stunning quality of the blooms. It looks like an apple tree on steroids.
The apartments in downtown Vancouver are very densely packed, and highly varied. Skyscrapers next to vine covered two-stories. Every permutation of human habitation. Very few detached houses. On my way to the airport on Sunday, I drove by a lot of high-hedged mansions, but nothing like that downtown. And yet, in spite of the density, this road has little round gardens in the intersections, and every patch of green has been funkified in some way. Sculptures, vases, flowers. And, not too far away from the residential areas, every kind of amenity. My kinda neighbourhood.
Due to my many detours, we ended up having dinner very late, around 8:00, at a place on Robson. The streets were sill teeming a few hours later, and I easily found my way home under a clearing sky. Simple really, once I knew which direction to turn.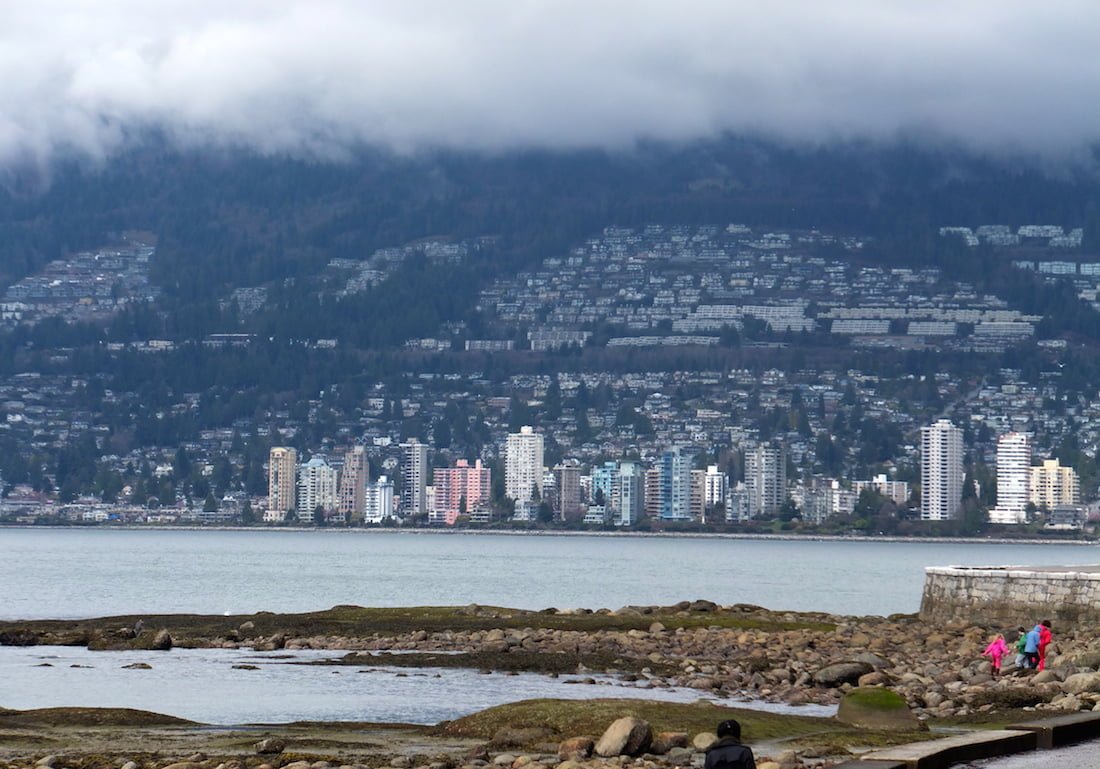 Next day, we met for brunch and then a walk with Suzanne and her dog Broedy along the seawall in Stanley Park. We took a side trip to the pet store, which had a large selection of dried animal parts, including beef wind pipes. (I thought about Maggie, but realized I would not be able to stomach her chewing a trachea.) It only misted a bit on the way, and once we got into the park, it stopped completely. We didn't exactly get a sunny day, but the break in the rain was very nice, as was the walk. Interestingly, the bikers are clearly separated from the pedestrians on different but adjoining sidewalks. Great idea. Lots of people out and about. English Bay was beautiful. The rocky shore equally beautiful, and I could have beachcombed for hours, but dogs aren't allowed on the beach, so we kept to the path. Many seagulls, crows, ducks, loons, and a heron. After about an hour, we moved to a monkey trail. It was SPECTACULAR. Rain-soaked ferns and giant moss-covered cedars. Plants that could never grow in Edmonton. Pools of water with some kind of sprouting lily. A huge, overturned cedar that Suzanne said was probably from the incredibly destructive wind storm a few years ago.
Deep into this dripping trail I felt like I was in a rain forest, and I probably was, minus the giant poisonous spiders. I loved it. I would never have walked through here without Suzanne's guidance. At any given point in Stanley Park, I had no idea where I was (what a surprise.) We emerged out of the woods after about an hour, into a marina and a looming city skyline. A walk around False Creek, where I spotted a (later identified) Spotted Rufous Towhee, as well as many ducks and geese, all of whom seemed smug in their choice of city. (Can't help thinking about the recently returned Edmonton geese, with their frozen bums and snow-covered nesting areas.) It started to rain again as we headed toward Jervis. A fond, and grateful farewell to my long-time friend, and then back to the hotel to chill until Neil Finn that evening.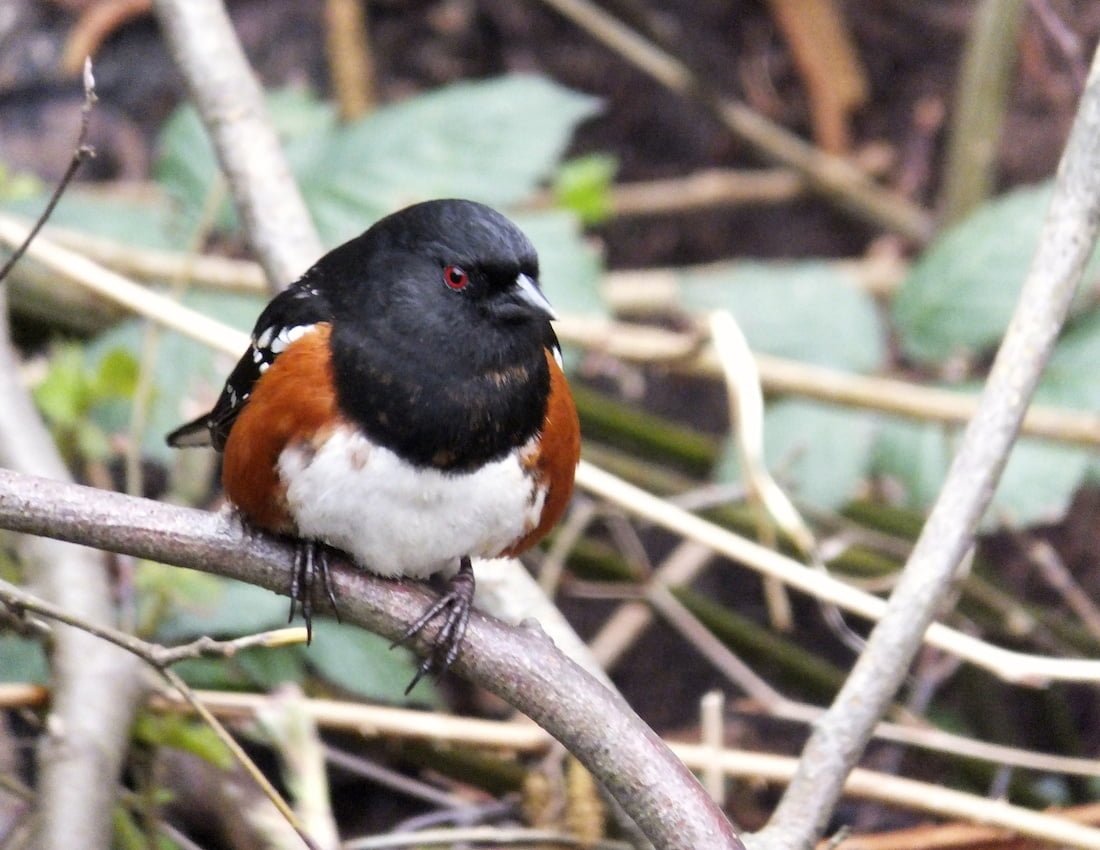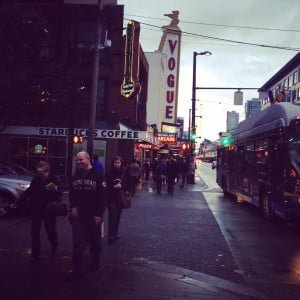 Now that I'd traversed most of downtown Vancouver (mostly unintentionally) in the last 24 hours, I no longer needed mapquest or google maps to get to my next destination – the Vogue Theatre on Granville. Once you have Burrard and Robson down, the rest comes a lot easier. The sun was parting the sky as I walked along a people-filled Granville. My seat was just 10 rows back from the stage, and a bit to the side, so pretty perfect. The concert was fantastic. I've seen Neil Finn play with Crowded House a few times but this was in some ways, better, because he could draw from his solo records and the Finn Brothers albums, as well as Crowded House and Split Enz. I loved every single fucking moment. It was exhilarating, and elevating. I especially loved when he sang Last Day of June, one of my favourite songs. I also loved being on foot, singing along for the last half of the concert. He played for more than two and a half hours. Brilliant. The guy is absolutely brilliant. Well worth the planes, trains, automobiles, and rain-soaked shoes it took to get me to this concert.
The next morning (which began with blue skies), I met my affectionately named 'little brother' Matt for brunch at De Dutch Pankoek House on the waterfront.
By late morning it was pouring again, but the walk from the hotel to the harbour restaurant is very short, so we only got mildly drenched. Great conversation (we agreed that Mavericks is a shit update to the Mac operating system), great pankoeks (with strawberries and bananas), and great scenery. He walked me back to my hotel, and along the way pointed out the Olympic Torch (which famously failed to light), and an interesting lego-like Orca by Douglas Coupland. Vancouver does public art very well. It's a city made for pedestrians. For people, not cars.
My only other 'appointment' before the plane was with Lawren Harris at the Vancouver Art Gallery. The show was wonderful. I love his paintings, and what he was trying to do with the Canadian landscape, although I will say the collection at the National Gallery in Ottawa is far more impressive. It was jarring to walk upstairs and see the ridiculous Myfanwy MacLeod and Cock & Bull shows, both of which were conceptual, installation-type displays. Not great. Not even really fun, but I did enjoy the Edward Burtynsky photography on the top floor, which included a related Emily Carr show of denuded west coast landscapes. As a palate cleanser, I had a final walk around the Lawren Harris rooms, and then stepped back out into the rain. A half hour later, I was in a cab on my way to the airport. The sun was out. I took a cab because the Canada Line train is largely underground, which contributed to my initial disorientation, and I wanted to see what I'd missed.
It was a fantastic trip! I did more walking than I've done in a very long time, all of it, or most of it in the rain. Hard to believe that in Edmonton, the 'blooming' part of spring is still a month away. It was so nice to be outside, to commute on foot, even if the weather was not ideal. Great city, great friends, great music and art, and a wonderful hit of spring just when I needed it. I feel lucky, and thankful for this weekend, even though my damp raincoat failed to keep out the cold when I landed back in Edmonton.