Shoulda written this one earlier, but it's been a busy week. Went to Arizona last weekend for three days. My sister and bro-in-law bought a condo in Scottsdale in January, and Sharon and I flew down for a quick polish and pimping up of the place. A righteous mission which we pulled off with speed and style, thanks to Walmart and Home Depot.
I can't say enough about the desert landscape. This is the second time I've been to Arizona. The last time was in the late nineties. It's still full of saguaro cacti and old guys in white sneakers, but I was newly impressed by the copper hills and ease of living. (Also breathing. No -28C temperatures.) This is February man, hard to believe. The summer in Arizona is as brutally hot as our winters are brutally cold, but now, it's mild and lovely. The air full of birdsong. Maybe it's the quick transition from a snowy climate to summer temperatures, but the audio in Scottsdale was surprising, and as enchanting
as the visual. Right outside of the condo is a tree with hummingbirds. Hummingbirds!! I've never seen a live hummingbird. They have a distinctive voice, and their trill was an almost constant the entire time we were in residence. I finally learned a few simple operations on my new camera (like turning it on) and was able to take close-up shots of the hummingbirds, both at 'home', and at the Desert Botanical Garden, a mini-paradise on earth, comparable to Butchart Gardens in Victoria, but with fewer flowers and more spikes.
We spent Monday morning wandering the trails of the garden. It was early, but the sun was out and the sky was blue. We were joined by a birding society, and rather appropriately, many, many birds. No lizards, as it was too cold for them at 18C. I was amazed by the variety of cacti and other succulents, as well as the art. Strange, organically inspired installations, and some giant (and awesome) reproductions of Giuseppe Arcimboldo's fruity paintings in the front part of the garden. As much as a desert garden can be, this place was lush. Like everywhere it seems, the trees were full of birds, many of whom were sitting on top of the cacti. How, I don't know. At one point Sharon and I were looking at a hummingbird in a bush, when it suddenly flew over to us, literally just a few centimeters from our faces, and then disappeared from the air in a lightning fast manoeuvre not unlike an alien spaceship departing Area 51. I was so surprised, I gasped, and of course, my camera stayed tucked in my pocket. It was too quick to snap a shot anyway, but I  was amazed to be stared down by such a crazily beautiful, exotic bird.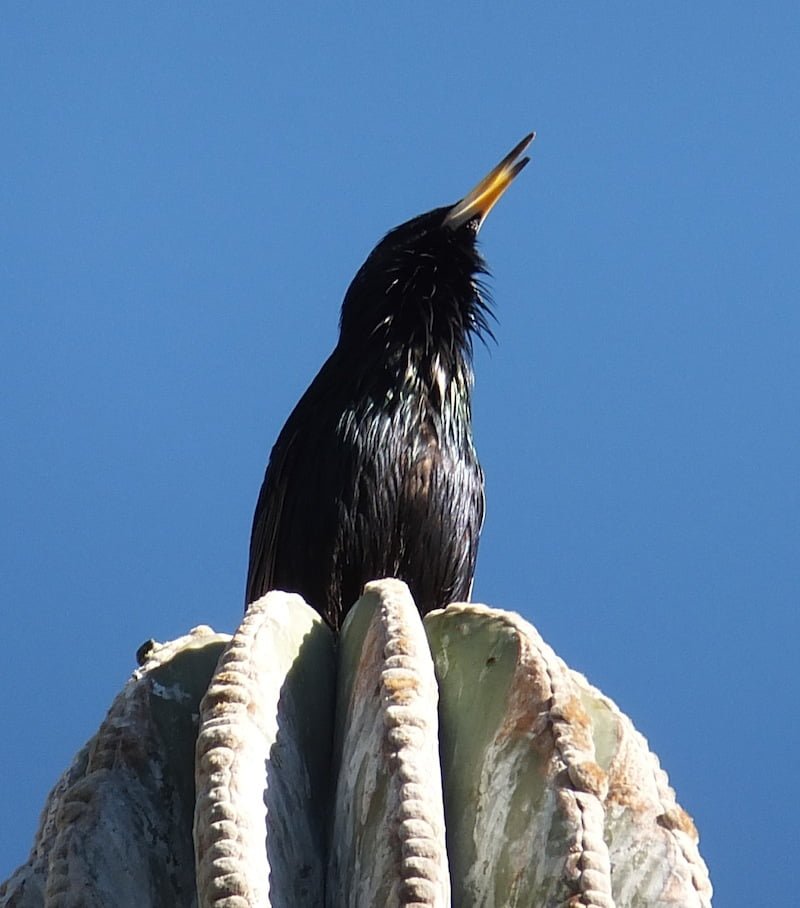 We also came across a bunch of monarch butterflies. This even caught the attention of the binocular-sporting birders just a few steps away. I would have thought they'd be in Mexico by now (the monarchs) so either they are still migrating, or they are on their way back north. It was an amazing sight in a day of amazing sights.
Aside from where we were, it was just so nice to be back in shorts and sandals. I enjoy winter, but it's exhausting. All that heavy clothing and boots, just to keep from dying when you step out the door. Even today, although it's nice and I am about to take the dog for a walk, I miss the swaying palm trees and the warmth. Spring is still so far away. Noticeable spring that is…with green grass and flowers. On the other hand, we northerners are never in need of Scorpion Be-gone, which according to the downstairs neighbour in Scottsdale, is a must. Nope. No scorpions.
Scottsdale temperatures (Feb 2 22C, Feb 3 18C, Feb 4 22C)