25 cm of snow yesterday (as opposed to last Sunday's 15 cm) and now it's almost gone. It was gobsmackingly lovely, but extremely hard to walk in, or see anything beyond a few feet. The top layer was snow, but the bottom was boot-soaking water. Yes, it was a VERY BAD hair day.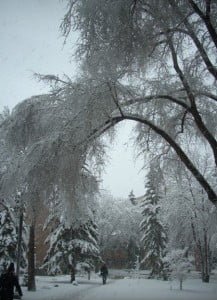 Once it started to melt off the trees, it was like getting pelted by snowballs. Nevertheless, Maggie was excited to go out, and if my outerwear hadn't been soaked, I would have taken her for a walk last night. No dice. So, we went this afternoon. Still lots of snow on the field, but it's melting fast. Our favourite trail is too water-logged to go more than half way. By the time we got home, she was wet to the shoulders. I was wet merely to my shins.
Beautiful blue sky and the knee-weakening sound of recently returned migratory birds wafting through the warm air. Lots of geese around Whitemud Creek. Butterflies. Robins. Very calming. Even the cat was on the deck today, in the sun, and briefly, in the snow.
A bit o' the chocolate bunny following the walk. A Good Friday. Very good.
5:14PM/4C