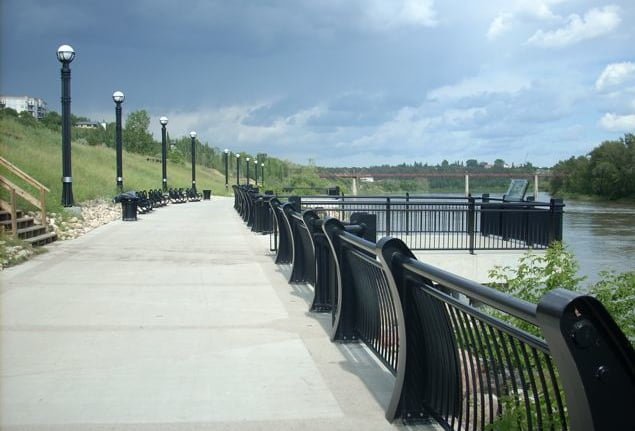 …or so says David Staples from the Edmonton Journal. I say this too, and I agree with most of what he has written in the article, especially with regard to building footbridges in Terwilligar Park at the expense of developing a river valley walk in downtown Edmonton. The idea of a promenade from Louise McKinney (or Riverdale, for that matter) to Rossdale would be fantastic. I also like the idea of a previously proposed canal system. Any of those pedestrian-friendly plans are worth pondering. I am totally down with that. However…
Some of the things wistfully imagined for the river valley are aleady here, like a walkway along the river. "How fine it would be to take such a walk , to feel the breeze coming off the water, to get right up to the flowing river and look up over sparkling waters at the best views of the city." Done and done. At Louise McKinney Park  you can get right up to the water on the lower path, and walk out on to a pier, if you choose. Granted, some of it is closed at the moment for development, and it's not close enough to touch the water, but given our latest river levels, that might not be advisable, unless you have webbed toes. Also, it's river water, not a mountain stream. I love getting up close and personal with the mighty North Saskatchewan, but I don't need to get microbially close.
"In fact, we've allowed all kinds of inappropriate and/or ugly development along the river, while creating a fine trail system that does a good job of serving local joggers, cyclists and hikers but not the vast majority of ordinary folk."
I realize I'm not one of the 'ordinary folk' referred to in the article. I prefer the non-paved paths and monkey trails of the river valley, and I'd rather pick up a scone at Wild Earth Bakery after my hike, not while I'm trying to burn off the calories from the previous day's gnosh. I've been writing about the pleasures of Louise McKinney Park and the river valley trail system for years, and I embrace the idea of more people seeing what I see on a daily basis. It's incredible, and it's incredible because it's unusual to have so much green space spanning the entire length of the city. I don't wish for the things it's not, I love it for what it is. Green, and free (in part) of the amenities I can find anywhere in the city. Even today, the mayor was imagining a new, revitalized Rossdale, with shops, cafe's and pubs. Pubs? Surely you jest! Living near Whyte Avenue, I can tell you that drunks are no fun at all, and that's with permanent port-o-potties and patrolling police officers. What I hear on a Saturday night I do not wish on the fine folks of Rossdale. But a new bridge, and a walkway? Cool.
Every couple of years, parts of Louise McKinney Park become inaccessible for further redevelopment projects. It's a small park, really just a parkette, but in the last 15 years it has had to endure more than it's fair share of 're-envisioning'…sort of like Nicole Kidman's face. The main path down the centre of the park has been out of bounds for months, as well as an unpaved path that runs along the water. Although I'm not entirely sure what's happening this time around, I believe it has something to do with extending the promenade that was built about three years ago. Also built three years ago? An inexplicably huge public washroom, which I believe falls into that category of "inappropriate and/or ugly development." To be fair, the giant, cement crapper has a roof-top sitting area and pots of flowers at regular intervals, but I've yet to see someone sitting up there, or using the bathroom for that matter. People just ignore it.
The ugliest development has yet to be built: the southeast LRT, which as proposed will be cutting through the east end Louise McKinney Park in the very near future. So, while pondering a peaceful river walk, you'll have to figure in the not so pleasant screech of a train slicing through the calm every ten minutes, not to mention the years of construction preceding it. Saddest of all, the wooden and steel Cloverdale footbridge crossing from McKinney to the other side of the river will be sacrificed for a newer LRT bridge. The current footbridge is open to the sky and offers a spectacular view of the river valley, with downtown Edmonton rising in the background. Visitors to our city take pictures of themselves on this bridge. A certain Blues guitar player in a sparkly jacket plays his music on this bridge. People meet on this bridge, and write their names in the wood. I often use our city's only LRT bridge over by the University, and I have yet to see a Blues guitar player in a sparkly jacket playing his music on that bridge. It has no vibe. It does, however, vibrate.
I agree that the river valley needs to be more accessible, and that it could be a better version of itself. Couldn't we all? I just wish some other city was planning it.
Here's another post about McKinney...
And another…
And now, the Blues player…