My building had an asbestos incident Wednesday night, so even though the initial report deemed the air 'safe', we were given the option to work from home on Thursday while they proceeded with clean up. Of course, all my stuff was on word docs, so I had to come in to send it to my home computer, thus defeating the purpose of 'working from home', or at least sleeping in. As compensation I took the long way home, through Rossdale/Louise McKinney and then downtown via the funicular. What an unexpected treat.
I took the opportunity to visit the magpie sculptures in south Rossdale. SO cool!! We should have more urban art devoted to our most populous (and my favourite) bird. Not everybody loves them, but they are wrong. There is much to love.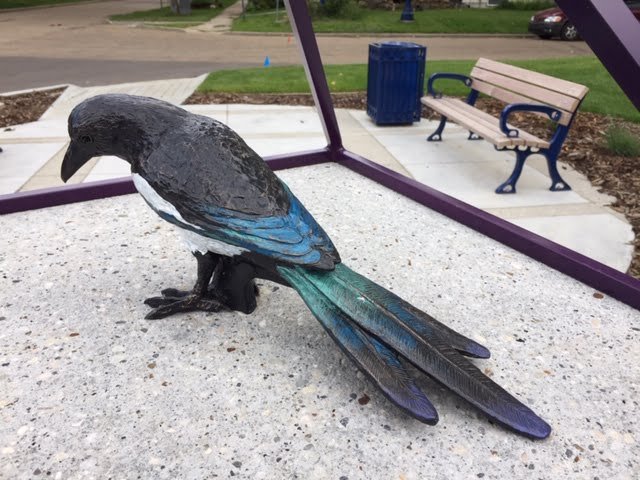 After Rossdale, I went under the bridge to Louise McKinney. They are proceeding with the construction of the new LRT bridge, so only half the park is accessible. I turned around after shooting a few photos and then up to downtown. Because of even more LRT-related construction downtown, I took a very circuitous walk to Oliver. All in all, 15,245 steps that day. Did I mention this was an unexpected treat? Love these 'stolen' days. I did work from home, but what a great start.