I'm glad I'd been forwarned about a series of art installations in Whitemud Creek Ravine, because some of it has the hillbilly-gone crazy-look of The Blair Witch Project. The installations are part of the Ramble in the Bramble:
"…an environmentally inspired transitory public art exhibit…made of recycled and found materials by local artists, respond(ing) to the environment rather than imposing upon it. Playful, and thoughtful, the walking tour presents the opportunity for a leisurely stroll punctuated by thought-provoking encounters."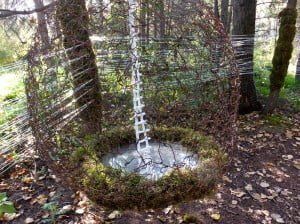 I don't know. I want to like it, and I certainly love the idea of public art, but generally speaking, I'm turned off by animal pelts, especially pelts strung up in the trees. The rest of it was OK. I'm of the opinion that anything added to the river valley, other than access trails, is a case of gilding the lily. Just try to improve on a tree. Still, cool concept.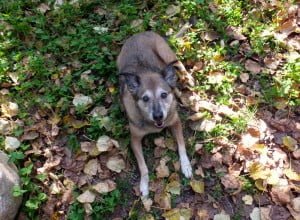 Actually, there is one thing that makes a walk inthe woods nicer: a dog. Maggie joined us for a 90 minute hike through Whitemud, and seems fine. She did take three or four dips into the creek to refresh herself, but I'm pleased to see that she could keep up.
4:12PM/23C