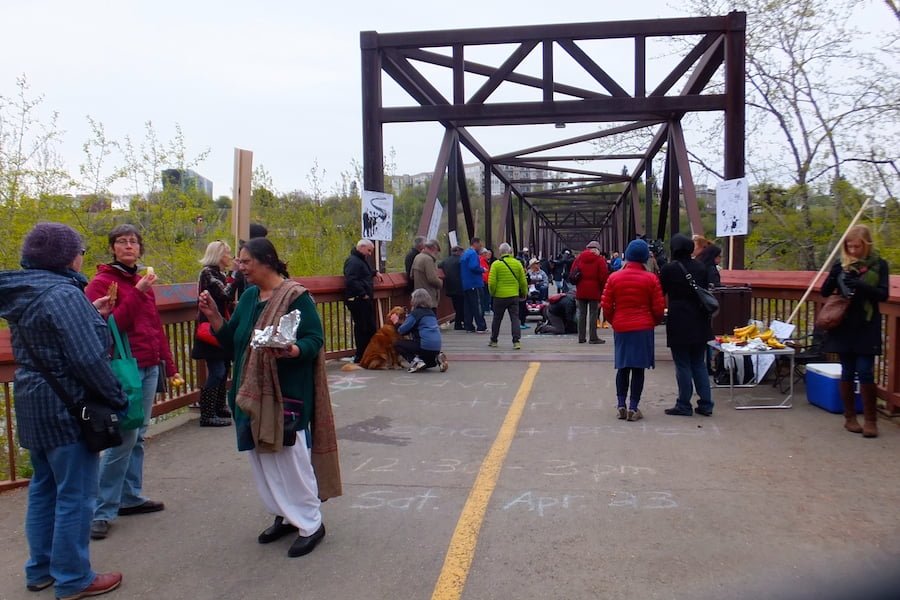 It was a very cold Saturday, but Tom and I braved the wind to join a human chain of Cloverdale Footbridge supporters in yet another effort to show our love for a part of the river valley that will soon be torn asunder once the Valley Line LRT is underway. It was a great. It was cold. It was weird, or at least the guy carrying around a plush sturgeon was weird. I asked him about it, and he began a type of diatribe one might expect of a man carrying a stuffed sturgeon. Once he started talking about blowing stuff up, we moved on. Strangely, there were other people with sturgeon emblazoned placards. I know they have a point about disturbed fish and wildlife populations, but it struck me as odd.
Prior to the bridge protest, we walked from 99th through Mill Creek Ravine and the Muttart. There were a lot of puffed up robins bracing themselves against the wind, but they were still singing. The ravine is surprisingly green and the creek (not so surprisingly) is very, very low. I remember past springs when the creek flooded its banks and it was impassable in some areas. It rained later in the afternoon yesterday and then all evening. That will help.
On the way home, we ran into a trail blockage by the low level bridge. The funicular. Managed to get through the first gate, but not the second. Scrambled up the hill and then walked along the west trail behind Scona Road to Route 99 for a late snack.
In spite of the cold, it was a great walk, and I was glad to pay my respects to our beloved bridge and see friends from the Save the Footbridge advocacy group. They are true stewards of the river valley.
4C/12:45 to 3:00